Authentic Pistol Owned By "Devil Anse" Hatfield and Commemorative Hatfield And McCoy Rifle to Go on Display at Hatfield and McCoy Dinner Feud Theater
PIGEON FORGE, Tenn. – An authentic pistol that William Anderson "Devil Anse" Hatfield (1839-1921) kept in his front coat pocket, as well as the "Henry Repeater Rifle," (the Hatfield & McCoy commemorative 150-year rifle) will be on display for a year beginning Sept. 25 in the lobby of The Hatfield and McCoy Dinner Feud™ Theater.
"Devil Anse" Hatfield was one of the patriarchs of the infamous Hatfield and McCoy feud. His great-great-great-granddaughter, Judy Hatfield as well as his great-great-great, grandsons, Reo and Jack Hatfield, were in attendance to present the weapons to the theater. Ron McCoy, great-great-great-grandson of Randolph McCoy, patriarch of the McCoy clan, was also in attendance. Reo's wife, Roxanne Hatfield, and Jack's partner, Miguel Castillo-Diaz were there as well.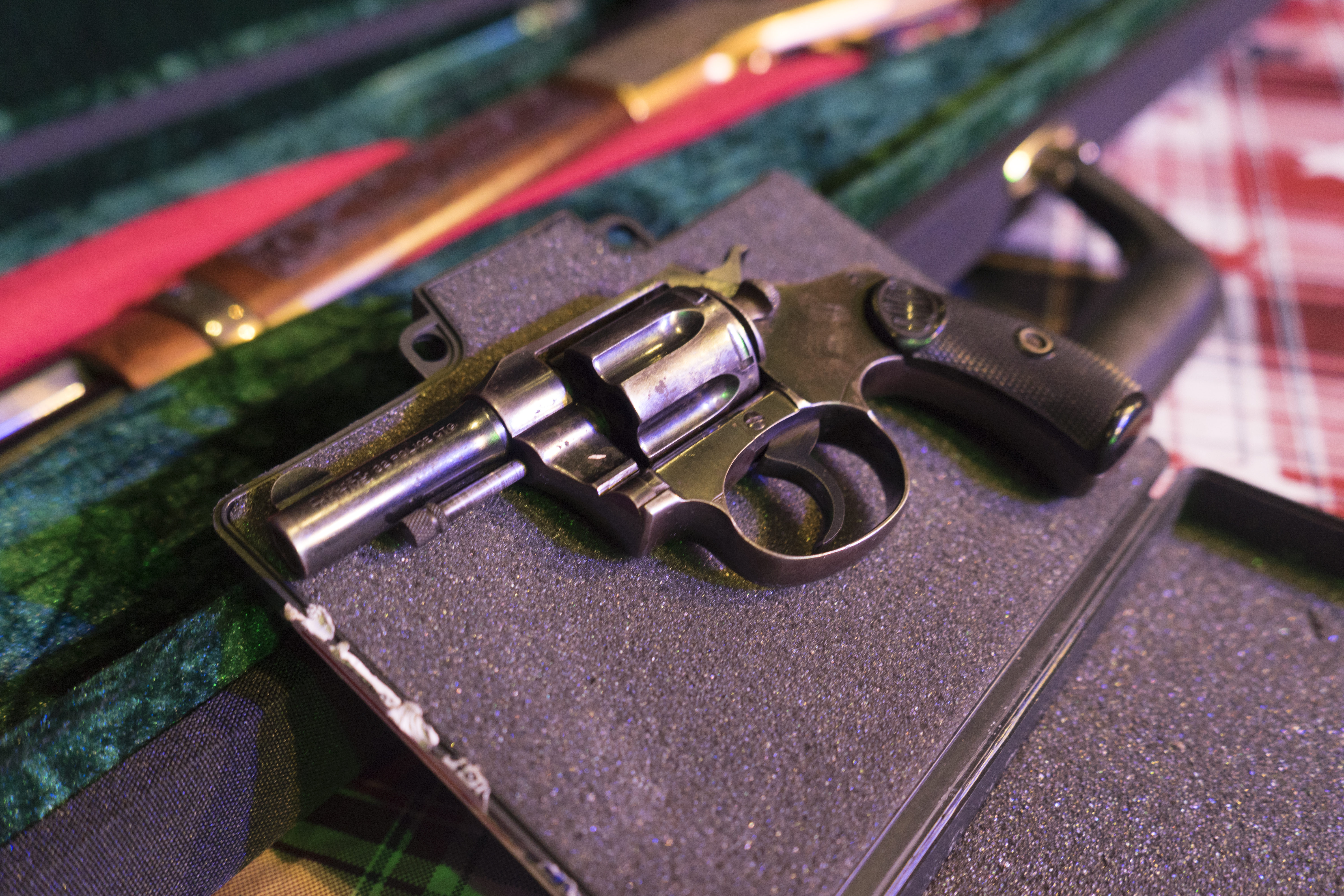 The firearms will be on display in a locked alarmed case in the gift store at The Hatfield and McCoy Dinner Feud™.  Historians do not think they were used as weapons and they are valued at more than $50,000.
The pistol, approximately 6 inches by 4 inches (smaller than a man's hand), was sent to Reo Hatfield by a member of The West Virginia House and comes with a certificate of authenticity. The firearm commemorates the long-lasting quarrel between the two families. Etched into the finish of the wood is a timeline of events between the two feuding clans and engraved signatures from both Hatfield and McCoy family members.
The "Henry Repeater Rifle" is hand carved with wood and gold engraving and depicts both families, one family per side as a tribute. The rifle is approximately 45 inches x 6 inches long. The Hatfield and McCoy Dinner Feud™ Theater received a certificate of authenticity for this limited-edition item that was purchased by Judy Hatfield. Only 150 were made, making this a special item for gun collectors and history buffs.
The true story of the Hatfield and McCoy feud spanned several decades and was one of the longest and most infamous family feuds in history. No one really knows how the feud began but some say the fight began over a stolen pig. A truce was signed between the two families in 2003 on national television, although the actual fighting had been over for a long time.
The "Hatfield and McCoy Dinner Feud™" takes place 5 p.m. and 8 p.m. nightly with occasional 2 p.m. matinees. It is an hilarious hit production inspired by real-life events that will put a mountain feast in people's bellies and a smile on their faces, as they watch a lively talent competition between Pa Hatfield and Ma McCoy and their clans where the stage is the battlefield. Guests of all ages in the audience are encouraged to support their own side of Hatfield or McCoy "kinfolks." This two-hour live show offers a rowdy battle at a barn dance, country, bluegrass, and gospel vocal and instrumental musical performances, and award-winning musicians, divers and cloggers. After three years of undergoing a $3 million renovation to the stage area, the theater added a 24-foot-deep Olympic diving pool with 300,000 gallons of water this year. It is the only stage of its kind in the Smoky Mountains.
The show comes with a Granny's 'All You Can Eat' mountain feast which includes fried chicken, open pit pulled-to-pieces pork barbecue, southern-style creamy soup, mashed potatoes, corn on the cob, homemade bread, coleslaw and specialty desserts. A vegetarian option is also available upon request.
For more information about the show, visit www.HatfieldMcCoyDinnerFeud.com or call 865-908-7469. The Hatfield and McCoy Dinner Theater is located at 119 Music Road between traffic lights 0 and 1 on the Parkway in Pigeon Forge between WonderWorks and the Titanic. 
About The Fee/Hedrick Family Entertainment Group
The Fee/Hedrick Family Entertainment Group, one of the largest show production companies in the southeast, also owns and produces other major shows in the Smoky Mountain including "The Comedy Barn®," "The Smoky Mountain Opry™," and "Magic Beyond Belief™" starring Darren Romeo. In November and December the company produces "A Comedy Barn Christmas®," "Christmas at the Smoky Mountain Opry™" starring Chris Blue, Season 12 winner of 'The Voice,'" The "Hatfield and McCoy Christmas Disaster Dinner and Feud™," and "Magic Beyond Belief™" starring Darren Romeo in a magical Christmas.
# # #