Dollywood Officially Opens Largest Expansion in Park History
PIGEON FORGE, TN – May 13, 2019 – Dollywood again solidified its place among the nation's premier family destinations as Dolly Parton officially opened Wildwood Grove, the largest expansion in park history with 11 thrilling new experiences. Parton shared the inspiration and dreams that led to the creation of Wildwood Grove, calling the area the new standard for Dollywood.
At $37 million, Wildwood Grove is Dollywood theme park's largest capital investment ever and is the first new area added to Dollywood since Wilderness Pass in 2008. The biggest adventure in Dollywood's history provides guests of all sizes unique experiences to enjoy together as a family.
After stepping into Wildwood Grove, imagination takes flight, delivering explorers on a journey of discovery in this breathtaking area. distance, the breathtaking Wildwood Tree catches the eye as lively butterflies shimmer in the daylight. Families laugh and play, taking rides inside giant acorns at Treetop Tower and aboard a thrilling "leaf boat" on the Great Tree Swing. 
Even the bears are friendly in Wildwood Grove, as they let guests meander with them through their own natural habitat at the Black Bear Trail. If smaller guests need a quick break, Hidden Hollow contains a 4,000 sq. ft. climate-controlled area with climbing structures, slides and games where kids and their parents can enjoy play time full of exploration.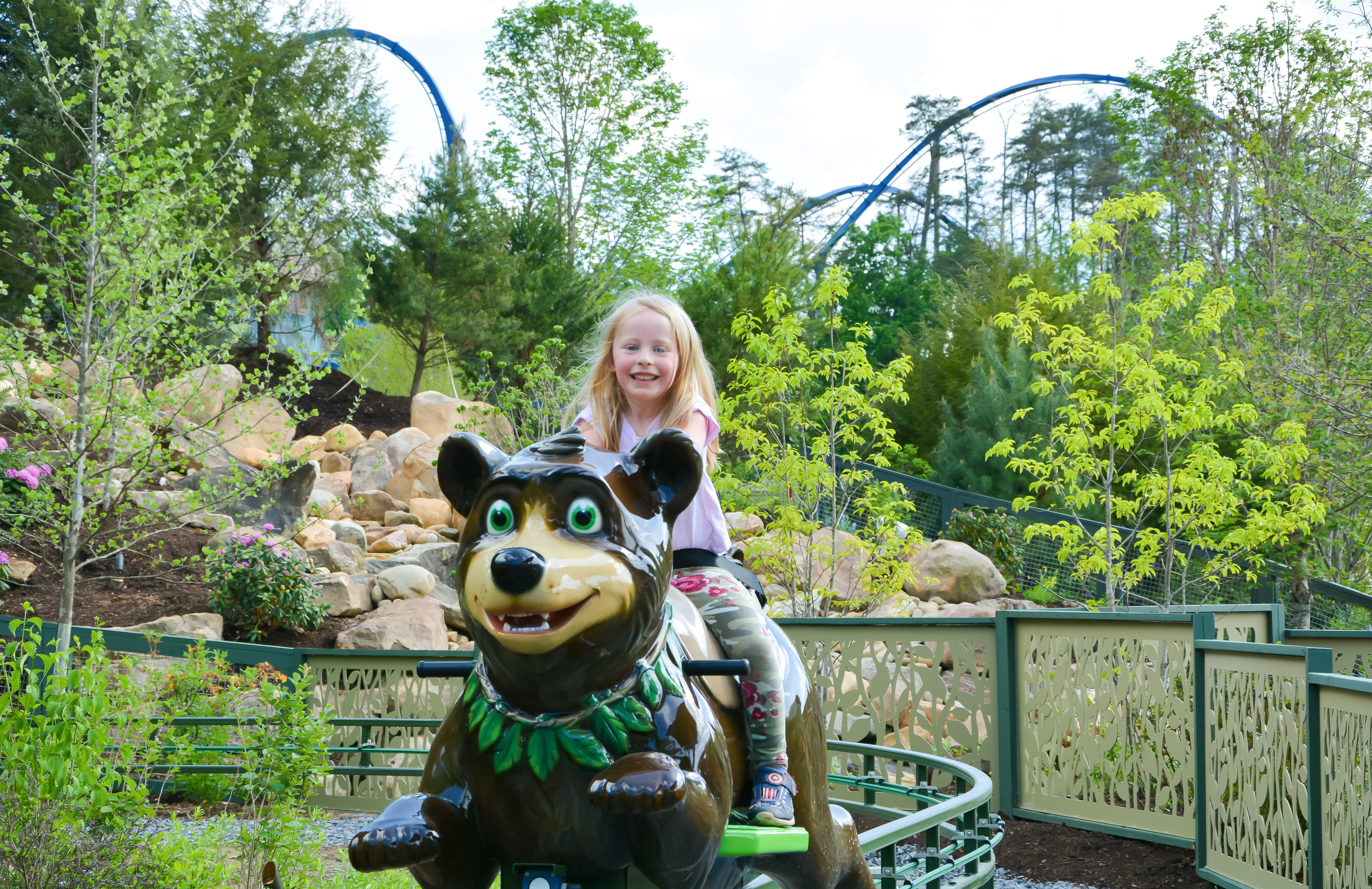 Nearby, families scream with delight as they take a ride with Tennessee's state symbol—the mockingbird—in an experience they control themselves at The Mad Mockingbird. Others dip and dart through geysers while suspended from dragonflies on the area's signature ride attraction, Dragonflier.
At the heart of it all is The Wildwood Tree. This focal point is a beacon for all, drawing families to watch the butterflies play in its leafy canopy, while encouraging others to splash and play in the winding creek that flows at its base. As the daylight fades, families can bask in a colorful kaleidoscope of summer fun as the area glows to life. 
Wildwood Grove also features new merchandise and dining options for park guests. Till & Harvest is expected to open around Memorial Day. The menu features a variety of build-your-own style entrees such as burritos, bowls, salads and nachos all filled with wood-fired meats, fresh vegetables and sauces. Along with the Smoky Mountain Mexican flavors, Till & Harvest also provides a spacious open-air patio for families to enjoy the sights and sounds of Wildwood Grove while they enjoy their meal.
Mountain Grove Merchants is the one-stop-shop for guests looking for the perfect gift or souvenir to celebrate their adventure in Wildwood Grove.
Nearly $1 million has been invested in Wildwood Grove's landscaping, with more than 400 trees and 2,300 shrubs creating a beautiful, yet decidedly natural atmosphere to enjoy.
WILDWOOD GROVE FACTS
o   The Wildwood Tree comes to life each evening during a unique nighttime experience which begins June 15. Each season of the year features a spectacular new experience for guests. The Wildwood Tree features nearly 650 lighted butterflies (orange, blue, yellow, pink and multi-colored) and almost 9000 leaves.
o   Dragonflier— This thrilling suspended roller coaster lets guests soar with a dragonfly as it dips and darts along the gushing geysers and lush landscape of Wildwood Grove. (Vekoma 453m suspended coaster) (1486 ft. in length)
o   Black Bear Trail— Riders hop on the back of these friendly bears for a spirited trek through their natural habitat. (Metallbau Emmeln Pony Trek)
o   Great Tree Swing— Guests aboard this thrilling "leaf boat" swing back and forth just like a leaf falling from a giant sycamore tree. (Zamperla Galleon)
o   Treetop Tower— This family tower gives guests a sky-high view of Wildwood Grove as they soar nearly 40 feet in the air. Riders, seated inside giant acorns, spin around the top of a tall oak tree before gently drifting back to the grove floor. (Zamperla Samba Tower)
o   The Mad Mockingbird— Tennessee's state bird—the mockingbird—gives visitors a lift as it flies in a high speed circle around a tall tree. Riders control their ride experience by moving a sail as the birds rush above the ground. (Larson Flying Scooter)
o   Frogs & Fireflies— Adventurous guests can hop aboard one of these friendly frogs as they chase each other in a spirited race around the lily pad. (Zamperla Jump Around)
o   Hidden Hollow- This 4,000 sq. ft., climate-controlled area allows families to explore and play in an indoor environment.
o   Wildwood Creek features pop jets, splashing pools and more wet play activities, while the dry play area at Wildwood Creek features "music instruments" for guests to enjoy.
o   Three new costume characters call Wildwood Grove home. Flit and Flutter serve as Wildwood Grove's ambassadors and Benjamin Bear loves to make new friends. Characters will have scheduled opportunities to meet guests each day.
For more information, visit www.Dollywood.com.
About The Dollywood Company
A highly-awarded and widely-recognized leader in the amusement industry, The Dollywood Company consists of the 150-acre Dollywood theme park; the 35-acre Dollywood's Splash Country; Dollywood's DreamMore Resort and Spa; and Dollywood's Smoky Mountain Cabins. As unique as its namesake and owner Dolly Parton, Dollywood is the 2010 Applause Award winner, the theme park industry's highest accolade; winner of more than 35 Golden Ticket Awards; and recipient of 26 Brass Ring Awards for Live Entertainment (more than any other theme park in the world). The park is located near Great Smoky Mountains National Park, and has been named a top three US theme park by USA Today on multiple occasions. Dollywood is open nine months a year (mid-March through early January) and offers rides and attractions, shows, and crafters authentic to the East Tennessee region. Dollywood's Splash Country, recognized by the Travel Channel and TripAdvisor as one of the country's most beautiful water parks and named 2009's Must-See Waterpark by the International Association of Amusement Parks & Attractions, operates from mid-May to Labor Day. Dollywood's DreamMore Resort and Spa, which received the 2017 Certificate of Excellence from TripAdvisor, provides guests spectacular mountain views and family-friendly amenities next door to Dollywood theme park and Dollywood's Splash Country. Dollywood's Smoky Mountain Cabins offers luxurious cabin accommodations overlooking Dollywood. For more information, call 1-800-Dollywood or visit dollywood.com. Operating days and hours vary. 
# # #
Dollywood media contacts:
Pete Owens
Vice President of Marketing and Public Relations
865-428-9486
865-755-7972
Wes Ramey
Senior Public Relations Manager
865-428-9484
865-640-3805
Ellen Liston
Senior Publicist
865-428-9629
865-919-7001
Amber Davis
New Media and Digital Publicist
865-428-9601
865-591-1002
Jennifer Webb
Publicist
865-428-9660
865-323-7584