Frist Art Museum's Renovated Martin ArtQuest Gallery in Nashville Features Redesigned Space and New Interactive Art-making Stations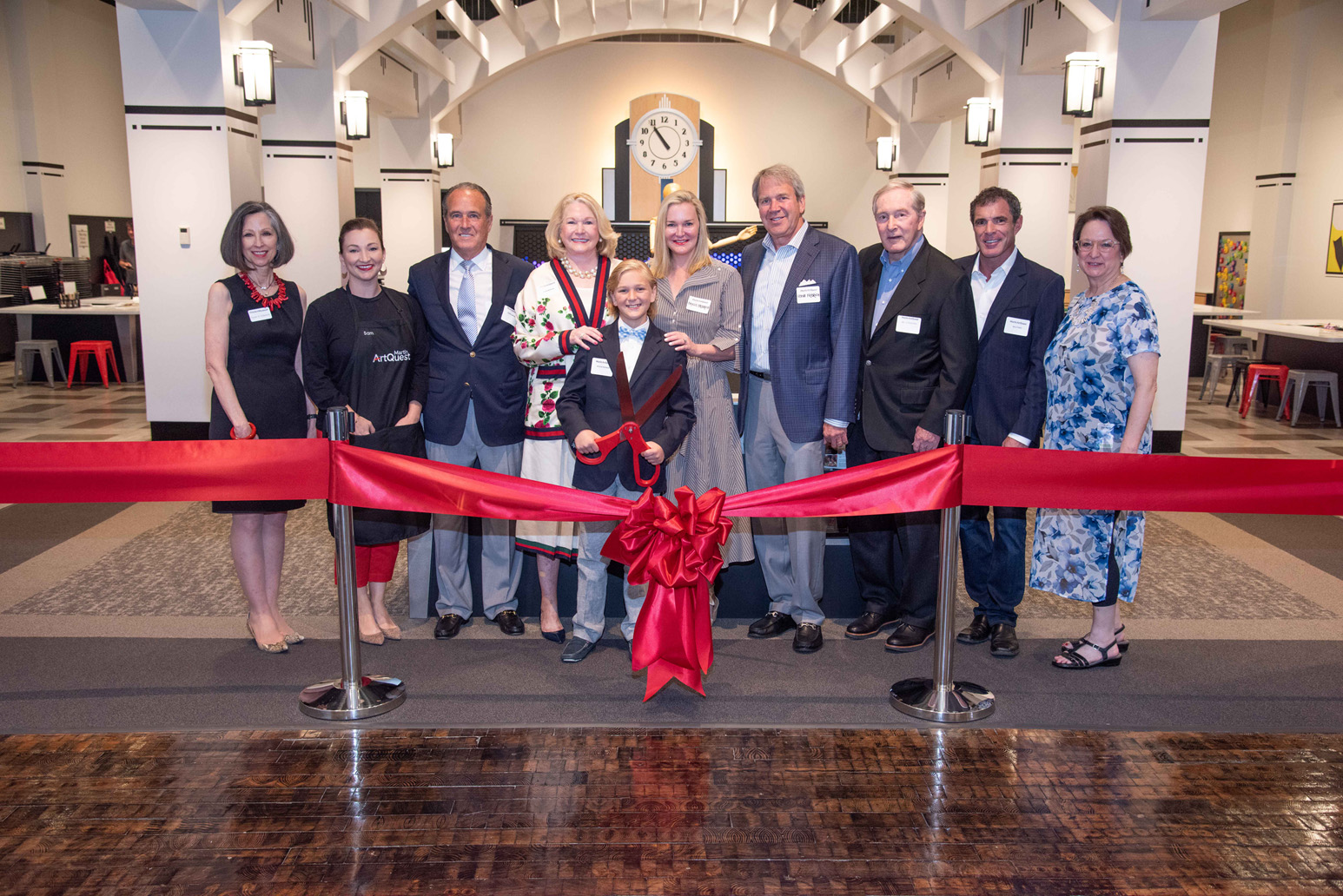 NASHVILLE, Tenn. – The Frist Art Museum has completed renovation of the Martin ArtQuest Gallery and it is now open to the public.
The award-winning, hands-on art-making space is a premier destination for families, children, and school groups to explore art. The updated gallery features enhanced activities focused on creative collaboration, critical thinking, and communication for visitors of all ages and abilities.The innovative redesign brings fresh energy to the beloved resource, which to date has served more than 1.5 million visitors.
The New Martin ArtQuest
Dynamic new activities as well as old favorites are now housed in the inviting and refreshed space. The new design aesthetic maintains a balance between sophistication and comfort and draws from art deco–inspired design details found throughout the historic building, Nashville's former main post office, which was built between 1933–1934. While the gallery's physical footprint has stayed the same, the renovation greatly expanded the functionality and flexibility of the existing space, allowing for more fluid traffic flow and clearer sight lines for children's safety, along with sound baffling and enhanced lighting to improve acoustics and visibility. 
Art-making Stations
•             Drawing, painting, printmaking, and other popular stations have returned, but with improved functionality and variety. The drawing station has been moved to the center of the gallery, so visitors may draw in the round.
•             The exploration of the moving image includes a large zoetrope, a shadow theater, and stop-motion animation.
•             A 16-foot interactive Everbright wall composed of color-changing dials allows visitors to create large-scale designs using the full spectrum of colors.
•             Visitors are invited to contribute to a collaborative textile-weaving installation using a large six-sided art deco grid.
•             A full-body-animated digital painting experience transforms visitors into colors and shapes on a wall mural.
•             A sound pattern station, based on the study of acoustics, allows visitors to manipulate frequencies to create patterns with sand on metal plates.
•             Activities that explore Frist Art Museum exhibitions, artists, and ideas will include new opportunities for visitor participation, dialogue, and response.
•             In coming years, contemporary artists will be invited to design new interactive stations and to keep the space fresh and engaging.
The renovation planning was led by Anne Henderson, Frist Art Museum director of education and community engagement and Samantha Andrews, Frist Art Museum assistant director for experiential learning. The redesign was completed by Roto, a leading creative consultant and design-build firm for museums, which operates a prototyping, technical engineering and fabrication shop, as well as an in-house visitor and school group evaluation program. Nashville-based R. C. Mathews Contractor executed the gallery construction.
The design responds to the prevalent cultural interest in hands-on learning as well as the increased popularity of shared learning and social media across generations. The changes also incorporate research findings from the four-year Family Learning in Interactive Galleries (FLING) research study funded by the Institute for Museum and Library Services, co-led by the Frist Art Museum, the Speed Museum (Louisville), and the High Museum of Art (Atlanta).
Upon opening in 2001, Martin ArtQuest has been at the forefront of museum education and became widely regarded as a leading interactive gallery. It has been consistently ranked as one of the top activities in the Nashville area for children and families and has won numerous accolades from media outlets including Nashville Parent and the Nashville Scene. In June 2013, USA Today named the Frist as one of two art institutions among the Top 10 great family museums. Martin ArtQuest has also been presented as an industry model at the American Alliance of Museums, the National Art Education Association, the Southeastern Museums Conference, the Tennessee Art Education Association, and the Tennessee Association of Museums. The Martin ArtQuest -based television series "ArtQuest: Art Is All Around You," produced by Nashville Public Television in collaboration with Frist educators, won Emmys for Children's Programming in 2014 and 2015.
Support
The First Art Museum is grateful to our major renovation supporters: The Frist Foundation, Ellen H. Martin, The James Stephen Turner Family Foundation, Corner Partnership, LLC, the William Randolph Hearst Foundation, and visitors of all ages for their financial support of the renovation. Supported in part by the Metro Nashville Arts Commission, the Tennessee Arts Commission, and the National Endowment for the Arts
About the Frist Art Museum
Accredited by the American Alliance of Museums, the Frist Art Museum is a 501(c)(3) nonprofit art exhibition center dedicated to presenting and originating high-quality exhibitions with related educational programs and community outreach activities. Located at 919 Broadway in downtown Nashville, Tenn., the Frist Art Museum offers the finest visual art from local, regional, national, and international sources in exhibitions that inspire people through art to look at their world in new ways. The Frist Art Museum's Martin ArtQuest Gallery features interactive stations relating to Frist Art Museum exhibitions. Information on accessibility can be found at FristArtMuseum.org/accessibility. Gallery admission is free for visitors 18 and younger and for members; $12 for adults; $9 for seniors and college students with ID; and $7 for active military. College students are admitted free Thursday and Friday evenings (with the exception of Frist Fridays), 5:00–9:00 p.m. Groups of 10 or more can receive discounts with advance reservations by calling 615.744.3247. The galleries, café, and gift shop are open seven days a week: 10 a.m. to 5:30 p.m. Mondays through Wednesdays, and Saturdays; 10 a.m. to 9 p.m. Thursdays and Fridays; and 1-5:30 p.m. Sundays with the café opening at noon. For additional information, call 615-244-3340 or visit www.FristArtMuseum.org.                      
Media contact:
Buddy Kite
615-744-3351
Ellen Jones Pryor
615-243-1311