Frommer's Names Memphis on List of "Best Places to Go in 2019"
MEMPHIS, Tenn. – Memphis, the city known as the Home of Blues, Soul and Rock 'n' Roll, has been named one of the "Best Places to Go in 2019" by the trusted travel brand of Frommer's travel guidebooks and Frommers.com.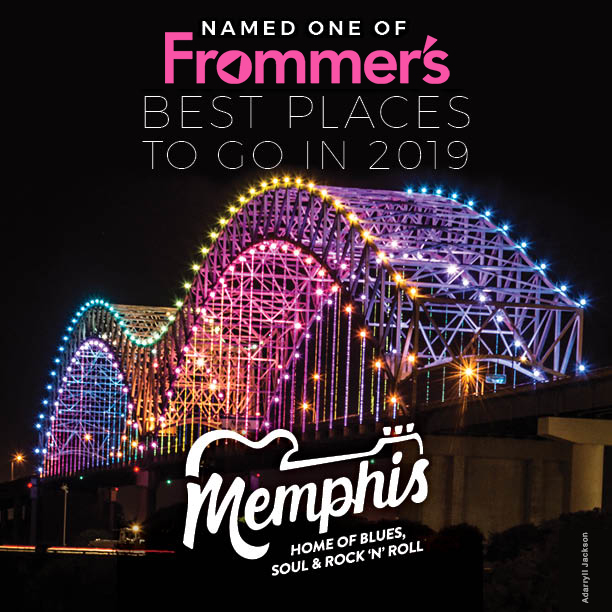 Memphis is one of 19 travel destinations highlighted in Frommer's "Best Places to Go in 2019" list that covers 13 countries in six continents. Determined by a team of award-winning travel editors and writers around the globe, the 2019 Frommer's celebrates destinations reaching major milestones, opening important new attractions, or emerging as spots due for discovery.
Realizing the significant cultural contributions of Memphis, a city with a rich music legacy along with a vibrant live music and culinary scene, Frommer's is honoring the city during its bicentennial year.
"One of the best parties in the world will take place in Memphis in 2019," said Pauline Frommer, Editorial Director for the Frommer's travel guidebooks and Frommers.com. "This is the birthplace of rock and roll and the Memphis sound extends to blues and soul. Music from this city has truly changed the world and continues to influence the sound of today's music artists. As Memphis turns 200 during its bicentennial year, this is the perfect time to explore a city rich in music, history and culture, in addition to a flavorful culinary scene that offers more than just the Memphis-style barbecue that the city is already known for around the world."
Memphis joins locales such as Singapore on the annual list from the respected travel authority and helps raise the profile of the local tourism and hospitality industry, which highlights just how important incoming visitors are to our local economy.
"Tourism is an economic development engine and job creator for our community. This great honor is because of, and shared by, each and every one of the 40-thousand plus tourism and hospitality employees across our city and county," said Kevin Kane, President and CEO of Memphis Tourism. "Last year we welcomed a record 11.7 million visitors to our destination, which had an economic impact of over $3 billion dollars on our local economy. As we kick-off our bicentennial year, we look forward to welcoming the world to our city. Memphis is more than just a destination. It is authentic, it is an experience."
Memphis is currently seeing a significant amount of new hotel development with 13 hotels under construction or in the planning phases with an additional 2,000 new hotel rooms in the pipeline for downtown, according to the Downtown Memphis Commission.
Frommer's has been in continuous publication since the 1957 debut of Arthur Frommer's revolutionary book "Europe on $5 a Day," which changed the way the world traveled. The Frommer's collection of travel products has expanded to include nearly 100 award-winning guidebooks, a nationally syndicated radio show, mobile apps, and Frommers.com, which consistently ranks among the most popular sites in travel.
For the full list of "Best Places to Go in 2019," visit www.frommers.com/bestplaces2019.
# # #