Great Smoky Mountains National Park Celebrates Rainbow Falls Trail Project Completion
GATLINBURG, Tenn. – The two-year trail rehabilitation project on Rainbow Falls Trail is now complete.
The six-mile Rainbow Falls Trail is one of the most popular trails in the Great Smoky Mountains National Park leading hikers to Rainbow Falls and Mt. Le Conte. The trail was reopened, on schedule, following work completed by the park trail crew, American Conservation Experience youth crews and volunteers.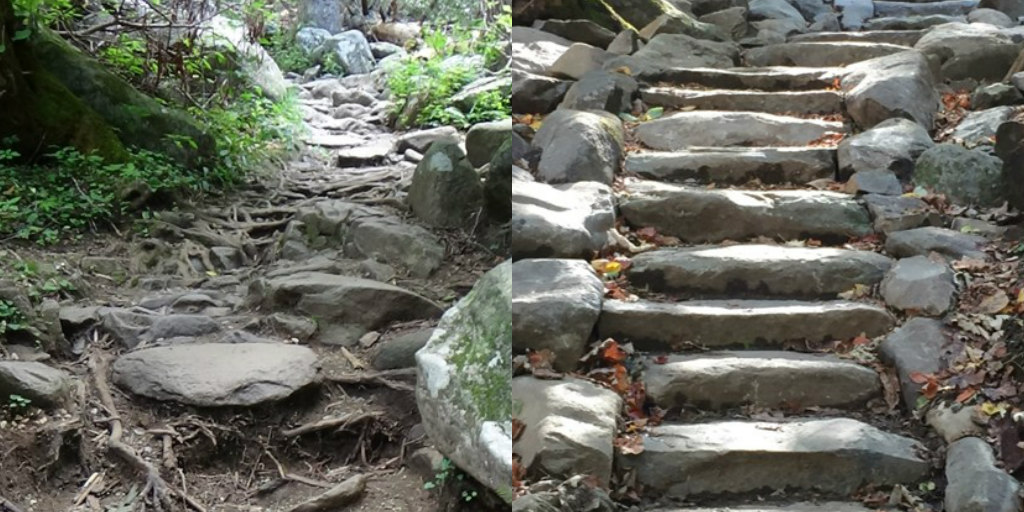 The park trail crew rehabilitated targeted segments along the trail to improve visitor safety, stabilize eroding trail sections, and repair trail tread damaged by high winds and fire during the November 2016 wildfires. The crew installed over 350 steps through steep, narrow corridors, created approximately 600 feet of elevated trail surfaces, installed approximately 400 drainage elements, and placed over 1,000 native stones along the trail to create a durable, sustainable trail corridor. The project also eliminated numerous, visitor-created side trails totaling over one mile in length that had resulted in eroded, off-trail paths creating confusion for hikers.
Numerous individuals partnered with the park trail crew to aid in rehabilitation efforts. Over the course of the two-year project, 44 American Conservation Experience youth interns contributed over 41,360 hours of service and 162 Volunteers contributed 1,576 hours of service.
Trails Forever is a partnership program between Great Smoky Mountains National Park and the Friends of the Smokies. The Friends have donated over $1,500,000 to support the program, in part through the generosity of the Knoxville based Aslan Foundation. The Trails Forever program provides the opportunity for a highly skilled trail crew to focus reconstruction efforts on high use and high priority trails in the park including the recently restored Rainbow Falls Trail, Alum Cave Trail, Chimney Tops Trail, and Forney Ridge Trail. The program also provides a mechanism for volunteers to work alongside the trail crew on these complex trail projects to assist in making lasting improvements to preserve the trails for future generations.
In 2019, the Trail Forever crew will begin a 2-year rehabilitation project on the popular Trillium Gap Trail. Due to the rehabilitation process on Trillium Gap Trail, a full closure will be necessary for the safety of both the crew and visitors. The Trillium Gap Trail and associated parking areas will be closed May 6, 2019 through Nov. 14, 2019, excluding federal holidays, 7 a.m. Monday mornings through 5:30 p.m. Thursday evenings weekly. The trail will be fully open each week Friday-Sunday.
For more information, visit WWW.home.nps.gov/grsm/getinvolved/supportyourpark/trails-forever-volunteer.htm.
# # #