New Exhibitions Welcome the New Year at the Emporium Center
KNOXVILLE, Tenn. – The Arts & Culture Alliance will present five new exhibitions Jan. 4-25, 2019 at the Emporium Center in downtown Knoxville.
A reception will take place 5-9 p.m. Friday, Jan. 4 as part of First Friday activities downtown to which the public is invited to meet the artists and view the artwork. Local musicians Kelle Jolly & The Will Boyd Project will perform at the opening. Most of the works are for sale and may be purchased through the close of the exhibition.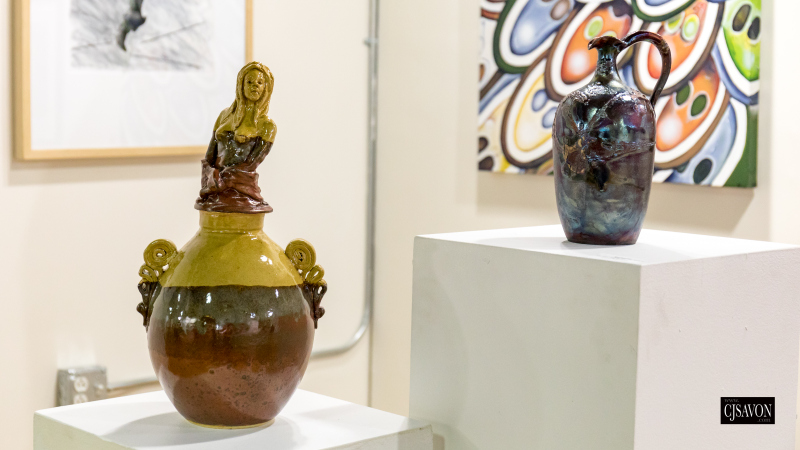 Dr. Martin Luther King, Jr. Commemorative Commission Gallery of Arts Tribute in the Main Gallery
The MLK Gallery of Arts Tribute exhibition will kick-off the 2019 King Week Celebration, taking place Jan. 16-21, 2019. The Dr. Martin Luther King, Jr. Commemorative Commission is partnering with the Arts & Culture Alliance of Greater Knoxville to provide this fifth annual exhibition. The Galley of Arts Tribute is a juried exhibition developed to recognize local artists and honor the legacy of Dr. Martin Luther King, Jr. The exhibit will feature works by local artists reflecting the 2019 theme, The Courage to Lead with a Greater Determination. Works in the exhibitions may also be a reflection of the life and legacy of Dr. Martin Luther King, Jr. and have pertinence to the themes of Unity, Community, Love, Reconciliation, Social Justice, and Civil Rights. 
Chris Hornsby: "Fracture-Recontextualized" in the Balcony
"Fracture-Recontextualized" is an experiment that joins Chris Hornsby's pre-existing paintings into larger, more complex compositions. Chris Hornsby studied graphic design at the University of Georgia; he has worked with a host of ad agencies and design studios across the Southeast, including those in Atlanta, Knoxville, and Mississippi. In 2003, he launched his own creative firm, Hornsby Brand Design, LLC. He is an American Advertising Federation Hall of Fame inductee and has garnered more than a 130 local and international design awards for his creative solutions, along with being published in several prestigious design annuals. Hornsby has cultivated his many years of design experience through producing superior creative work from corporate identity and websites to TV commercials. His pieces range from installation art to paintings and sculptures. His work has appeared in museums, exhibitions, and has been displayed in numerous venues.
Bill Capshaw: "The Journey" in the display case
Bill Capshaw earned a Bachelor of Fine Arts in Ceramics in 1971 and a Master of Fine Arts in Printing Processes in 1974 from East Tennessee State University. He worked for Bechtel Jacobs Company LLC from 1977-2007 as a Government Printing Office Specialist and served as an adjunct faculty member at Pellissippi State Technical Community College. For more than 30 years, he has served as Pottery Chair and Instructor of the Oak Ridge Art Center. Capshaw has volunteered with the Tennessee Arts Commission to review grant applications for At-Risk Youth and other grant programs. He has conducted workshops at the Appalachian Center for Craft, Arrowmont School, Vanderbilt University, Virginia Intermont College, Oak Ridge Art Center, Children's Museum of Oak Ridge, and various area middle and high schools. Capshaw's works have been included in the Governor's Inaugural Ball, fundraisers, private and permanent collections such as ETSU Slocum Gallery, Tennessee Arts Commission, and Huntsville Fine Arts Museum. He has had solo and group shows with Blue Spiral 1 (Asheville), Rodman Townsend Gallery, Johnson City Arts Council, Kingsport Fine Arts Center, Smithsonian Institute, Tennessee State Museum, Vanderbilt University, Joe L. Evins Appalachian Center for Crafts, and many others. His work is displayed and sold with Highland Craft Shop in Gatlinburg, Norris Craft Center, and Folk Art Center in Asheville. He is a member of Foothills Craft Guild, Southern Highlands Craft Guild, Appalachian Arts and Craft Center, and Tennessee Association of Craft Artists, at whose fairs he has held numerous demonstrations.
Karen Ann DuGuay: "Following your inner voice" in the Atrium
In this exhibition, DuGuay will feature photographs of the things she has been drawn to on her travels. She hopes viewers will be moved to follow their inner voice, pause and take notice, and "see" more closely the world around us.
Regina Tullock: "Life Around A Little Pond & Big Birds of the Lake" on the North Wall
Regina Tullock has been exploring the ways life becomes art for the past 28 years, beginning with her work as a middle school educator. Through her professional career, she has nurtured young people to give expression to their creativity through art, drama, and photography. Her pioneering work with students, when computers were first developing into a viable artistic medium, paved her own way to her current mode of artistic expression. Through combining photography, graphic art, and a fine artist's eye for texture, color, and composition, Tullock creates photographic prints that take on the look and character of oil paintings. Her work blends both a photographic realism with an artistic interpretation, creating a medium that uniquely engages on both levels, leaving the viewer to experience a deeper truth behind what meets the eye.
Tullock's artwork includes images take around a little pond around her garden, bird life on Fort Loudon Lake, and along roads around the lake.
Exhibition hours are 9 a.m. to 5 p.m. Monday-Friday. Please note, the Emporium will be closed Monday, Jan. 21 for MLK Day. For more information, contact the Arts & Culture Alliance at 865-523-7543, or visit www.knoxalliance.com.
Photo by: CJS avon
About the Arts & Culture Alliance
The Arts & Culture Alliance serves and supports a diverse community of artists, arts organizations, and cultural institutions. The Alliance receives financial support from the Tennessee Arts Commission, the City of Knoxville, and First Tennessee Foundation.
# # #