New Ripley's Believe It or Not! Opens in Gatlinburg
GATLINBURG, Tennessee – Feb. 11, 2019 – The newly-renovated Ripley's Believe It or Not! is now open, after one of the biggest renovations in history, presenting the largest collection of the odd and unusual from all corners of the world with new galleries, thousands of exhibits and interactives.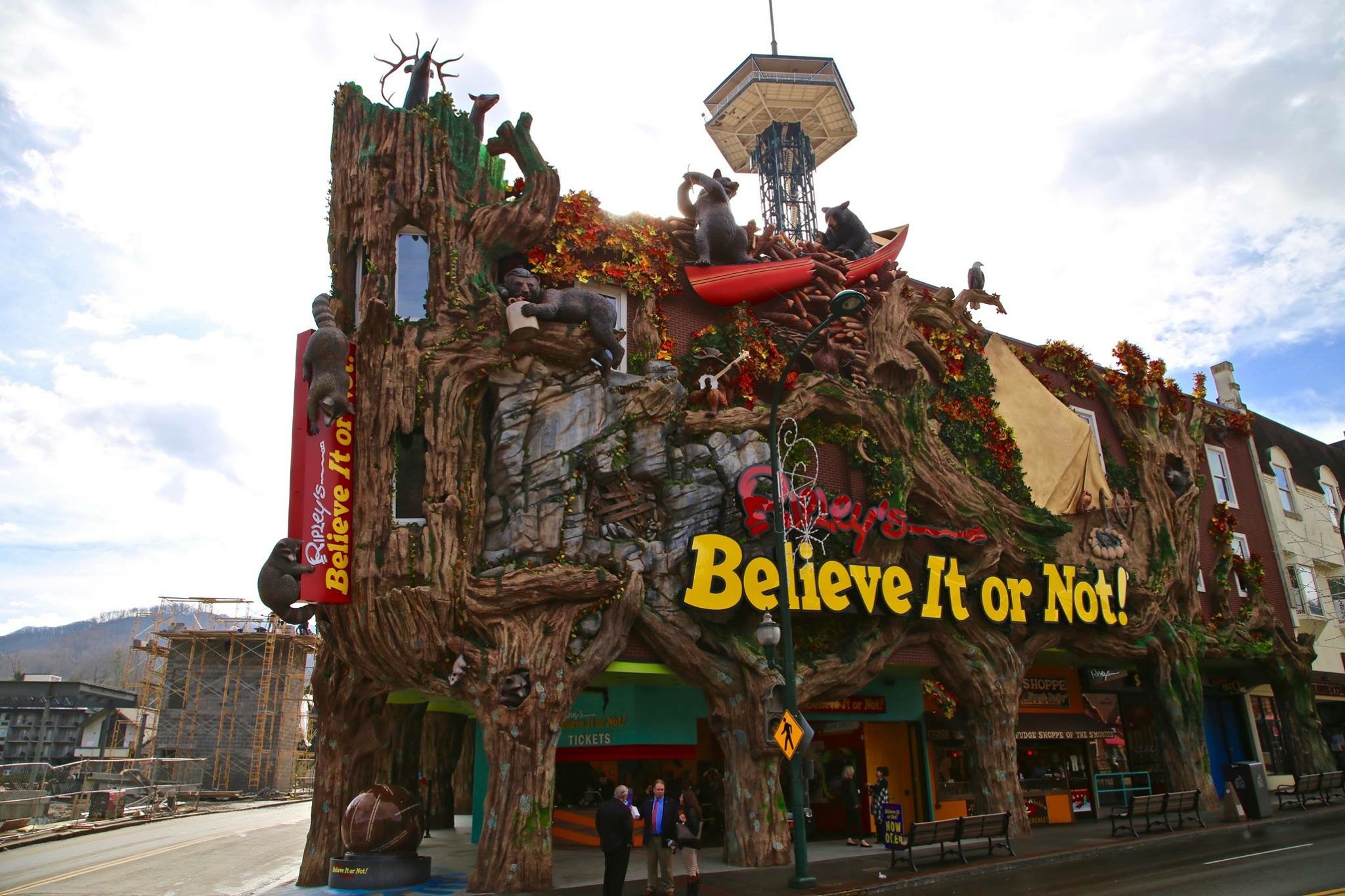 Some of the things visitors will see in their journey walking through the new odditorium include:
•             Harry Potter-inspired dragon made of recycled materials and Hogwarts School of Witchcraft and Wizardry made from 602,000 matchsticks.
•             A crystal Mini Cooper
•             Two-trunked African Elephant, a rare albino giraffe and other unique animals from around the world.
•             Tribute gallery to the Great Smoky Mountains featuring exhibits on synchronized fireflies andd the tallest underground waterfall.
•             Ripley's Warehouse featuring Megalodon submarine robot and ancient Egyptian mummy dating back to 2000 B.C.
•             Ripley's Jungle featuring unusual collections including a shrunken torso owned by Ernest Hemingway, shrunken heads, instruments, tribal mask collection and interactives.
•             Short E. Dangerously lost both of his legs at two years old, but he travels the world wowing audiences with acrobatic feats, performing handstands on bowling balls and walking on fiery glass with his hands.
•             Wadlow, the tallest man; Lucia Zarate, the smallest woman of all time; Chamouni, the incombustible man and other amazing people from around the world.
•             Unusual art made from spices, Tennessee barbecue sauce, shotgun shells, license plates and recycled materials.
•             Various interactives that will excite and entertain throughout including the Kaleidoscope Room, Optical Illusion Room, Rainbow Shadows and To the Moon and Back.
Ripley's Believe It or Not! is located at traffic light #8 on the Parkway in Gatlinburg, TN and is open 365 days a year. For ticket information, call 865-436-5096 or visit www.ripleysgatlinburg.com.
About Ripley Entertainment
Ripley's Believe It or Not! is part of the Ripley Entertainment Inc. (www.ripleys.com) family of worldwide attractions, the global leader in location-based entertainment. More than 14 million people visit its 100-plus attractions in 11 countries each year. In addition to its 30 Believe It or Not! Odditoriums, the Orlando, Florida-based company has publishing, licensing and broadcast divisions that oversee projects including the syndicated Believe It or Not! television show, best-selling books and the popular syndicated cartoon strip, Ripley's Believe It or Not!, that still runs daily in countries around the world. Ripley Entertainment is a Jim Pattison Company, he second-largest privately held company in Canada.
# # #