Gov. Bill Lee, Tennessee Commissioners Break Ground for The Lodge at Paris Landing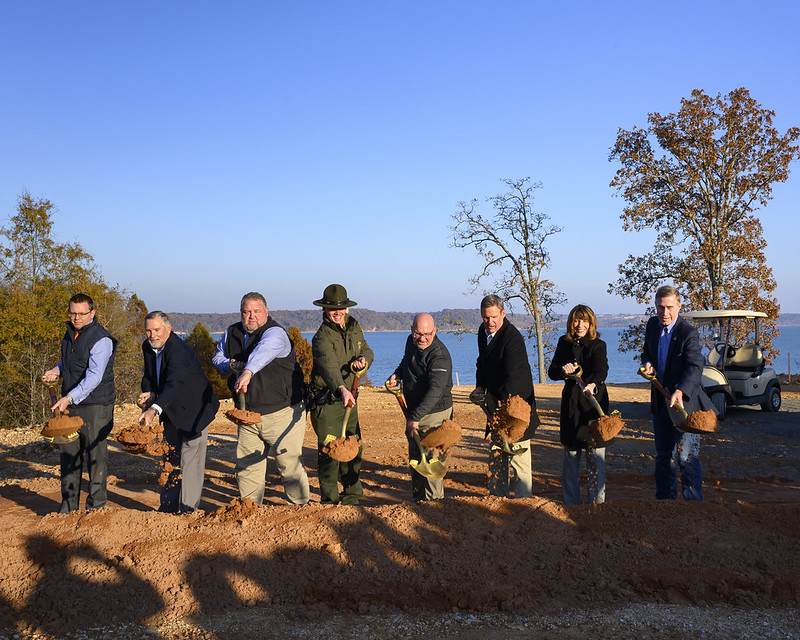 BUCHANAN, TN – Nov. 20, 2019 – Tennessee Gov. Bill Lee, Tennessee Department of Environment and Conservation Commissioner David Salyers and Department of General Services Commissioner Christi W. Branscom led a groundbreaking ceremony on Friday, Nov. 15 for the new Lodge at Paris Landing at Paris Landing State Park. The lodge is expected to open in the spring of 2021.
"The Lodge at Paris Landing will be a magnificent attraction," said Gov. Bill Lee. "This will be a boost for tourism in this area, and the facility speaks to the outstanding strength of our outdoor industry and our commitment to economic development in our rural areas."
The lodge, which will feature views of Kentucky Lake, will have 90 guestrooms, three meeting spaces, a restaurant and bar, and a pool. The design of the lodge is a waterfront theme that blends with traditional, natural park design. The pool and patio areas are also planned to focus on views of the lake.
Paris Landing State Park is an 841-acre attraction on the western shore of the Tennessee River, which is dammed to form Kentucky Lake. The park sits on the widest part of the lake making it an outstanding location for water sports such as fishing, boating, swimming, and waterskiing. It is home to a par-72, 18-hole golf course.
The park also has 10 three-bedroom cabins and features a campground with 45 sites with water and electric service, as well as 18 primitive campsites.
# # #