Songwriters from Across the State to Perform at The Bluebird Cafe Finale of Tennessee Songwriters Week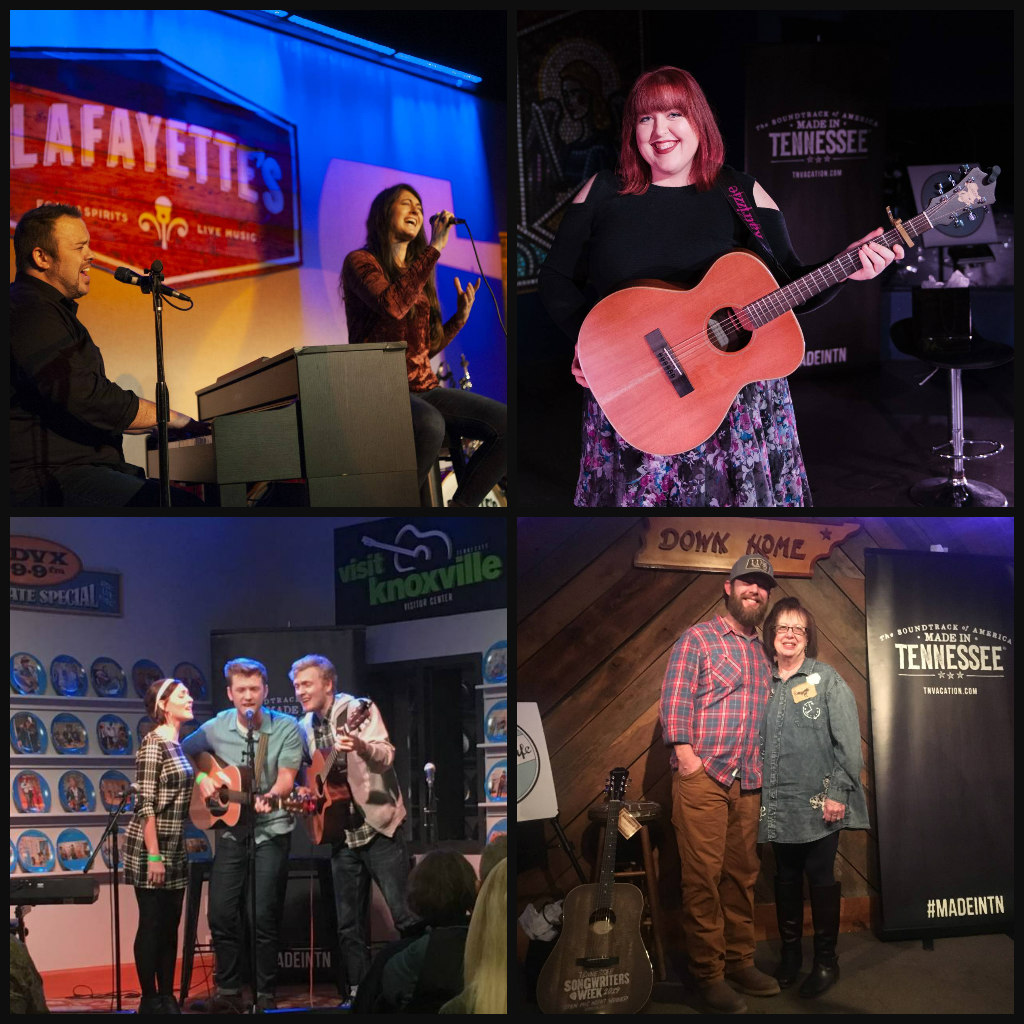 NASHVILLE, TN – Feb. 25, 2019 – Winning songwriters from the inaugural Tennessee Songwriters Week Open Mic Night events will perform at The Bluebird Cafe Sunday, March 31. The Tennessee Department of Tourist Development, in partnership with The Bluebird Cafe, held four open mic nights in Memphis, Chattanooga, Knoxville and Johnson City during Tennessee Songwriters Week last week. More than 100 songwriters performed at the open mic nights. Each of the four winners won a special Tennessee Songwriters Week-branded Epiphone guitar, tickets to a show at the historic Bluebird Cafe during Tin Pan South, a two-night hotel stay in Nashville and a travel gift card.
 "Songwriting is important to me because it creates an outlet for me to expose and share emotions I would otherwise be anxious to keep inside," said Katrina Barclay, who won the competition at The Camp House in Chattanooga.
The Bluebird Cafe's long-time open mic night host and songwriter Barbara Cloyd along with a panel of local judges selected the top songwriter from each event. Songs were evaluated and scored on a numerical scale considering both the song and the performance. Judges looked at the originality of the song and its ability to create an emotional connection with the listener.
Seth Thomas, who won the Open Mic Night at The Down Home in Johnson City, moved the crowd to tears when he sang a song in memory of his father who passed away last year. Thomas' mother wrapped her arms around her son when he was announced the winner. Travis Bigwood & the Lonesome Doves won the Open Mic Night at WDVX at Visit Knoxville.
"Being chosen to represent Memphis out of 25 beautiful, soulful works of art is such an incredible privilege for us," said Shara Matlock and Austin Carroll, who won the Open Mic Night at Lafayette's Music Room in Memphis. "We are so thankful for this opportunity. Our (BIG) dreams are coming alive with the momentum this contest has provided."
The state statute annually designates the last full week of February as "Tennessee Songwriters Week." The week is designed to celebrate the foundation of the craft, recognize past and present songwriters and pave the way for future artists. Local businesses and venues across the state held dozens of special events.
Plans are already underway for next year to expand special programming, open mic nights, in-the-rounds, songwriter showcases and educational opportunities to celebrate songwriters and drive visitation.
For more information as it becomes available, visit www.tennesseesongwritersweek.com.
About the Tennessee Department of Tourist Development
Tennessee is the home of the blues, bluegrass, country, gospel, soul, rockabilly and rock 'n' roll-delivering an unparalleled experience of beauty, history and family adventure, infused with music that creates a vacation that is  "The Soundtrack of America. Made in Tennessee." In 2017, Tennessee's tourism industry generated $20.7 billion in economic impact, more than $1.8 billion in state and local tax revenue and more than 184,300 tourism-related jobs.
Explore more at tnvacation.com and join other Tennessee travelers by following "tnvacation" on Facebook, Twitter, Pinterest, Instagram and YouTube or "Tennessee" on Snapchat.
About the Bluebird Cafe
The Bluebird Cafe is one of the world's preeminent listening rooms and the venue has gained worldwide recognition as a songwriter's performance space where the "heroes behind the hits" perform their own songs; songs that have been recorded by chart-topping artists in all genres of music. 
# # #